Health, Uniform & Security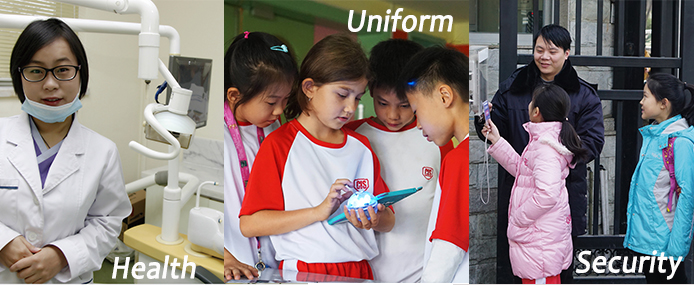 Health
 The school clinic and dental office are open to serve students and staff during school hours from Monday to Friday. The clinic treats minor injuries, performs first aid, performs health screenings and maintains students health records. Co-operation with famous hospitals and clinics around our school such as SOS Clinic, Hong Kong International Clinic, Beijing United Family Hospital, SDM Dental Center enables us to provide services for accident emergencies, medical training and education, epidemic and seasonal disease prevention, physical checkups and dental care for all school members.
Uniform
It is one of our goals to direct students' energy and attention towards their academic development and personal growth, hence all students are required to wear the school uniform while they are on campus. School uniforms can be purchased at the school's designated tailor shop. For the convenience of the students and parents, a sufficient amount of supplies are also available on campus.
Security
CISB provides a comprehensive 24-hour security service. Parents are required to show their CISB Parents Cards to enter the school, while all visitors must register at the front gate to be issued with a Visitor's Pass. Guards are posted at all school's entrances, and the campus is equipped with a closed circuit television system and a state-of-the-art fire command center.