About us
Founded during the fall of 2005, the Canadian International School of Beijing offers an internationally recognized Canadian (New Brunswick) curriculum and all three International Baccalaureate (IB) Programmes in a beautiful downtown campus. We welcome students from Beijing's diplomatic and expatriate communities with programming that starts in our Montessori Nursery (18 months to 3 years old) through to our Grade 12 graduating class.
Our team
Our highly qualified CISB teaching staff is made up of diverse team representing 19 different nationalities that join our community with a wide range of Canadian and International teaching experiences. All of our teachers are qualified to teach at their respective levels meeting Canadian certification standards or the equivalent.
Our mission statement
Our CISB community is committed to developing lifelong learners in an inspiring, safe and culturally diverse environment, to be responsible global citizens.
We believe in:
Building strong relationships with all CISB stakeholders
Developing knowledgeable lifelong learners through formal and informal learning
Fostering personal and professional growth
Creating a safe environment of understanding and respect
Contributing positively to the world community
A Word
From our chairman 
"As an educational institute, we take pride in offering a unique Canadian curriculum and providing an international and qualified teaching team as well as a positive learning environment for our students.  
Our student body represents more than 60 nationalities. The students mainly come from diplomatic and expatriate families. They range from toddlers to high school. With this solid foundation, we aim to make even greater achievements. 
We look forward to welcoming your family to the Canadian International School of Beijing and hope you find your child's studies with us rewarding."
A Word
From our head of school
"Welcome to the Canadian International School of Beijing. It is my pleasure and privilege to be able to extend a sincere greeting to all students, parents/guardians, faculty and staff.
We take our responsibility very seriously for preparing and equipping our students with the essential knowledge, skills and personal qualities that will enable them to thrive in a constantly changing world.  We value our partnership with our parents/guardians and the school community and thank them for their support as we journey together to see students reach their maximum potential."
Our School
Facilities  
Our Liangmaqiao campus is conveniently located just outside the third ring road in downtown Beijing. Situated in the north east side of the city, our school is within walking distance to the Japanese, French, Indian, Malaysian, Korean, Israeli, and American embassies and Chaoyang Park's north gate. Our beautiful 38,000 m2 air-quality controlled campus is home to facilities designed to enhance our student's learning both in and outside of the classroom.
Campus highlights
Elementary & Middle/High Libraries
2 Gymnasiums
Nursery Gymnasium
Multi-purpose room
25m Swimming Pool & Wading Pool
Science and Design Tech Labs
Makerspaces
Dance Studio
Onsite Cafeteria
500 seat Auditorium
Lecture Theatre
Specialized Visual Arts & Music classrooms Athletics Field
Outdoor Playgroup
Onsite Medical & Dental Clinic
Virtual Reality Lab
CISB's Indoor Air Quality
We take our indoor air quality very seriously and have implemented a number of measures to ensure our CISB community is breathing safe air. These measures include:
Installation of a new, automatic air purification system providing fresh, clean, monitored air directly into each classroom
Installation of Pureliving's Air Filtration system throughout the campus (hallways, classrooms, gymnasiums, cafeteria, pools, etc…)
Air purifiers installed on all buses
Regular monitoring of indoor air quality
Air Quality protocols that restrict door access on bad air days, determine if and when windows can be opened when air purifiers must be on and for how long as well as when students are prevented from going outside (see our 'Policies' link for more detail)
Air-pressurized doubled-door entrances/exits
Sealed windows throughout campus
Our news and announcements
Stay up to date with the latest from our community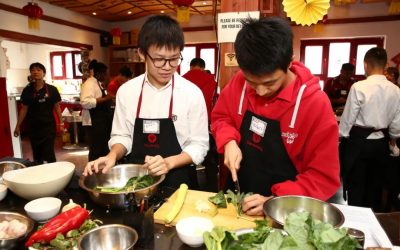 Every year, Grade 11 students visit Beijing's historic Hutongs to practice vital Approach to Learning (ATL) Skills integral to CISB's IB (International Baccalaureate) program. These skills, including collaboration, communication, and leadership, are rooted in the...