Embracing the Legacy: Celebrating CISB's Exceptional Graduating Students as Global Citizens
We are delighted to share the heartwarming stories of five exceptional Legacy Students graduating this year from the Canadian International School of Beijing (CISB). What makes their achievements truly remarkable is their long-standing commitment to our school, as they have been an integral part of our CISB community for an impressive period of time, some since their very first days of school. Their stories embody the spirit of our CISB community spanning an impressive 13 to 15 years.
Let us introduce you to Vince, Stella, Lucky, Andy, and Nicholas, who have spent a combined almost 70 years of education at CISB. Each of them embodies the CISB motto "Together is Better" and exemplifies the core values of our school community: Community, Integrity, Resilience, Respect, and Trust. During their time at CISB, these remarkable students have demonstrated their commitment to these values, fostering a sense of unity and support within the school community.
Throughout their journey at CISB, these exceptional students have excelled academically and embraced the role of global citizens, actively engaging in numerous service and community initiatives.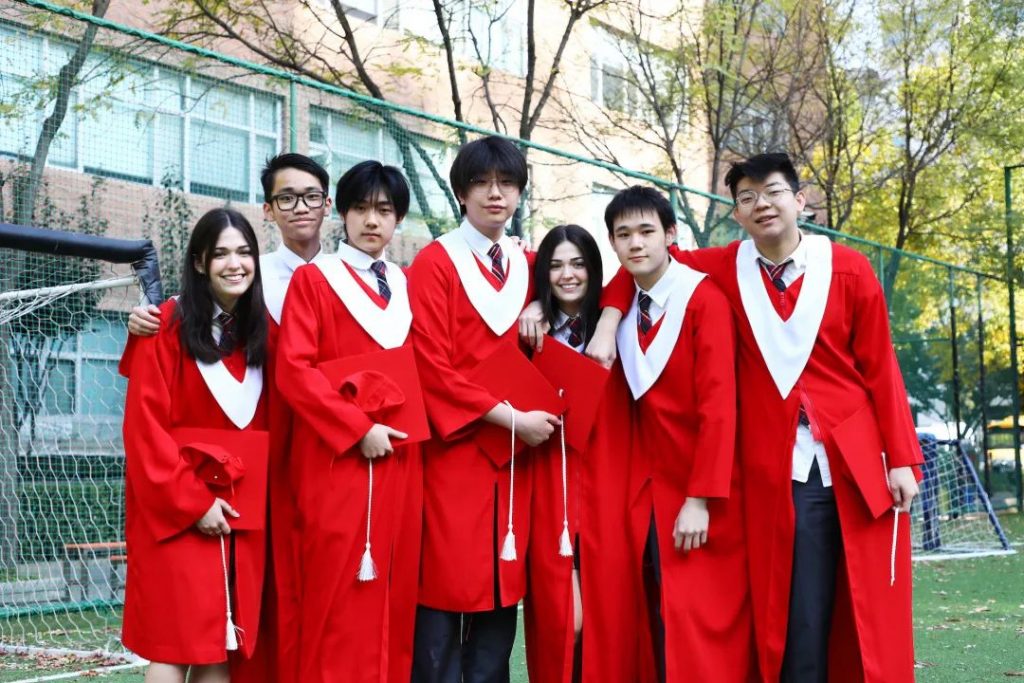 Vince, sharing his reflections, fondly recalls, "In my 14 years at CISB, sports have played a vital role in my growth, teaching me the importance of teamwork, perseverance, and resilience." Vince has been an integral part of the Bobcats athletics community since his early years.
Similarly, Stella, who has been with us for an astonishing 13 years, adds, "Being involved in volleyball and community initiatives has shaped my time at CISB, teaching me the value of teamwork and giving back." Stella's dedication to teams, coaching the U14s, and involvement in initiatives like Roots and Shots and the Migrant Children's Fund since Grade 4 exemplify her commitment to both athletic pursuits and making a positive impact on the lives of others.
From their early years at CISB, Stella, Andy, Nicholas, Lucky, and Vince have consistently demonstrated their commitment to positively impacting the world around them. Andy, Nicholas, and Stella actively participated in the supplementary teaching club, providing valuable support to migrant students' education. Their involvement in service initiatives reflects their understanding of the importance of giving back to the community and making a difference in the lives of others. Meanwhile, Lucky's involvement in the Grad Committee and athletics support and organisation over the years showcases her commitment to enhancing the overall experience of her fellow students. These students' remarkable journeys as global citizens, shaped by their involvement in various activities and initiatives, serve as a testament to the transformative education and values fostered at CISB. We are incredibly proud of their accomplishments and their positive impact within and beyond our school community.
The enduring commitment of these students and their families to CISB is a testament to their trust in our school. Lucky, who has spent an impressive 15 years at CISB, emphasizes, "I am grateful for the unwavering support and trust my family has shown in CISB. It has truly been a transformative journey, allowing me to develop lifelong friendships and a strong academic foundation."
As Andy reflects on his 14 transformative years at CISB, he fondly acknowledges the cherished memories and lasting bonds he has formed with his peers. With a hint of nostalgia, he expresses, "We're going to miss the times at school. We'll all miss the teachers, everyone, and this environment." While certain aspects of their CISB experience may change as they embark on their individual university journeys, one thing remains unwavering—their long-lasting friendship. The deep connections forged over the years will continue to endure, serving as a source of strength and support as they navigate new paths and embrace the opportunities that lie ahead.
These Legacy Students have a unique perspective on their transition to university. As Vince eloquently says, "Usually, people go through multiple schools before they go to university. But for us, university is the second school we will ever go to because of how long we've been at this school." Having graduated from kindergarten and witnessed the growth and evolution of CISB, they embody the spirit of legacy within our school community. Throughout their years at CISB, they have acquired academic excellence and developed essential skills that will undoubtedly propel them toward success in their university endeavors.
Equipped with the knowledge and skills nurtured at CISB, these students approach their upcoming university experiences with confidence and determination. Reflecting on his personal journey, Nicholas shares his remarkable transformation: "I recognized the need for change as I transitioned to the Diploma Programme (DP). With the support of my teachers and friends, I gradually overcame this challenge, realizing the true purpose of attending school: 'I kept on telling myself that I'm coming to school for learning, for improving myself, not to play games and be unfocused in class.'" Through perseverance and dedication, Nicholas overcame his obstacles and earned an offer from the University of Toronto. His journey exemplifies a profound 13-year connection to CISB: "Thanks to the comprehensive education and opportunities at CISB, we are well-prepared to excel at universities around the world."
The achievements of our graduating students, who have been an integral part of our CISB community for an extensive period of time, exemplify the transformative power of international education. Their academic success, global citizenship, and enduring connections forged within our CISB community are celebrated through their inspiring stories. We take immense pride in their accomplishments and express gratitude for the trust and commitment their families have placed in us.
As we commemorate the achievements of our graduates, let us also embrace the limitless possibilities that await them. Their accomplishments are a testament to our mission of nurturing learners into passionate leaders and igniting inspiration throughout the entire CISB community. Their journeys demonstrate the profound and enduring impact of unwavering dedication to education and the unwavering support found within our CISB family. Together, we foster a nurturing community that cultivates every student's unique potential.