School services
Bus. Cafeteria. Uniforms. Health. Security. Library
Bus services
CISB provides optional bus service for students starting at 3 years old.
Our fleet of buses arrive at school each morning by 8:10am and depart right after school at 3:45PM (Mon-Thurs) and 2:45PM (Friday). A late bus service that leaves by 4:50PM (Mon-Thurs) and 3:45PM (Friday) is also available to support our After-School activities program. Most bus stops are located throughout north-east Beijing and we do our best to provide additional stops when a minimum of 3 students request for one location.
Each bus is supervised by a Bus Monitor. Bus Monitors check students as they board and leave the bus and ensure they remain seated and wear seat belts during their journey.
Contact us
Email: schoolbus@cisbeijing.com
Tel: 010-64657788 ext. 666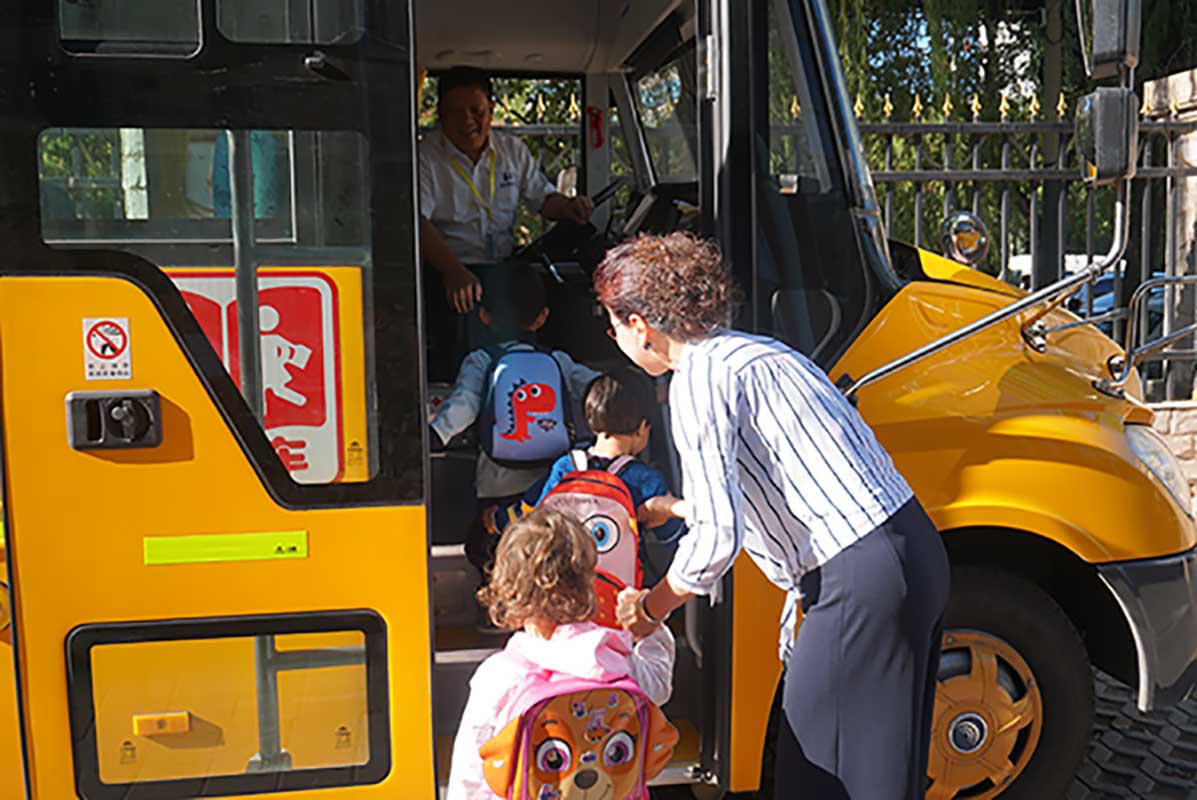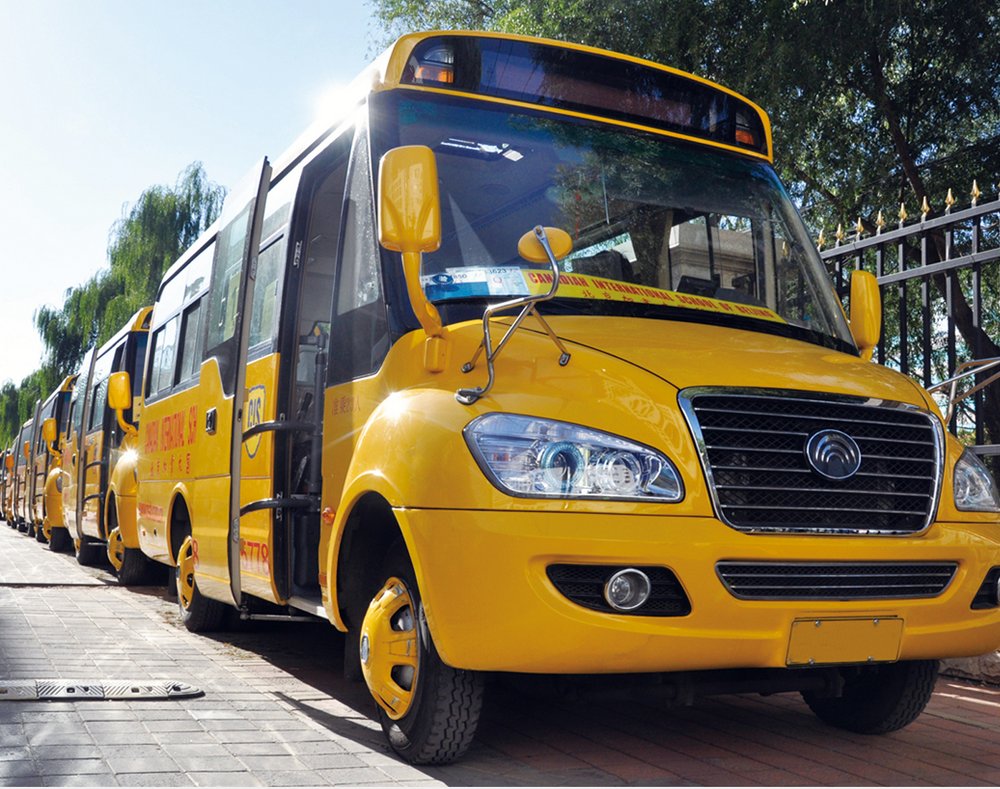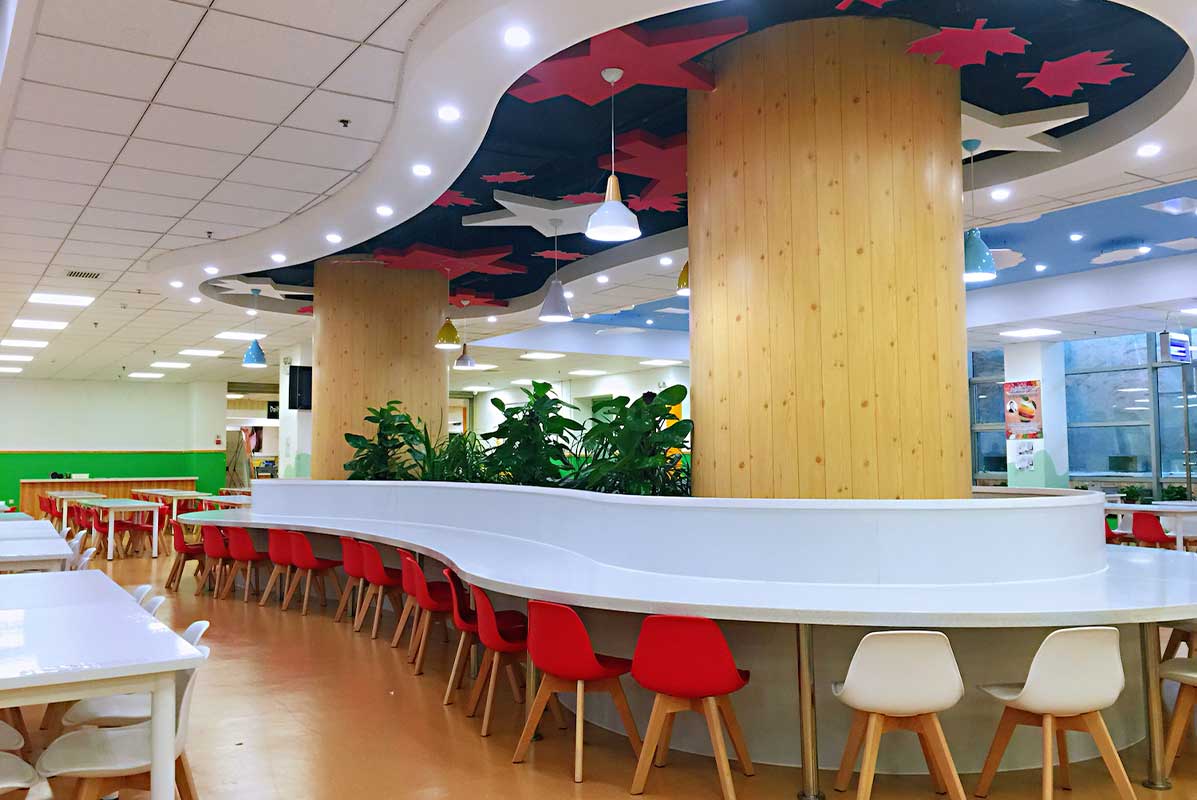 The cafeteria
CISB is partnered with SODEXO to provide a healthy, balanced and nutrition menu for students of all ages that
are prepared onsite in our CISB Cafeteria.
The following information is from Sodexo. Please feel free
to contact them or our Admissions office if you have any additional questions.
Our menu
We provide an extensive range of meals by Sodexo Food Service Company. Menu selections feature a diverse and nutritious range of both Western and Chinese inspired dishes. For questions, email us sodexo@cisbeijing.com
Smart card
Students use their Student ID Card for food services at CISB. These smart cards should be maintained with a minimum positive balance of 150RMB. You can recharge the card and view balance reports either in person or using our Wechat options.
For daily pictures of our menu please follow Sodexo- CISB WeChat. Scan the QR code below


Our Mission
Health
The school clinic and dental office are open to serve students and staff during school hours from Monday to Friday. The clinic treats minor injuries, performs first aid, performs health screenings and maintains students' health records. CISB is partnered with the Beijing United Family Hospital who helps us to provide services for accident emergencies, medical training and education, epidemic and seasonal disease prevention, physical checkups and dental care for all school members.
Our Mission
Uniforms

 
It is one of our goals to direct students' energy and attention towards their academic development and personal growth, hence all students are required to wear the school uniform while they are on campus. School uniforms can be purchased at the school's designated tailor shop. For the convenience of the students and parents, a sufficient amount of supplies are also available on campus.
Our Mission
Security
CISB provides a comprehensive 24-hour security service. Parents are required to show their CISB Parents Cards to enter the school, while all visitors must register at the front gate to be issued with a Visitor's Pass. Guards are posted at all school's entrances, and the campus is equipped with a closed-circuit television system and a state-of-the-art fire command center.
The elementary library features a student-centered design that ensures that students find what what they're looking for, and enjoy their time there. The space features over 15,000 books, including a home-language collection, computers and printers, along with comfortable work and reading spaces. We also subscribe to digital resources to enrich students' access to information.
A new addition to the elementary library is the Makerspace. We provide the materials, tools and guidance for students to be innovative and take their learning into their own hands. In the Makerspace, we love to code, build, tinker and create!
Visit Ms. Bonnie's Virtual Library, to see what online resources are available to students.
The middle-high school library is a beautiful space, inspired by China's rich history. Here, students have a peaceful space to work, and access to over 10,000 books in several languages, covering a wide range of topics. High-quality digital databases elevate student research and prepare them for post-secondary education.
The MHS library's Libguides provide comprehensive information for students. It can be accessed at https://cisbeijing.libguides.com/mshslibrary
The libraries are open to students and staff from 7:45am – 4:45pm, Monday to Friday.
TThe Canadian International School of Beijing has 2 full-service libraries that serve students and their families from Nursery to grade 12, with books, online resources, and personalized service from qualified staff.
You can access the library catalogue at destiny.cisbeijing.com