What structures are in place for those who need social, emotional support in Elementary?
SEL Video Part Three
In our learning environment, we use the response to intervention pyramid model that you can see here.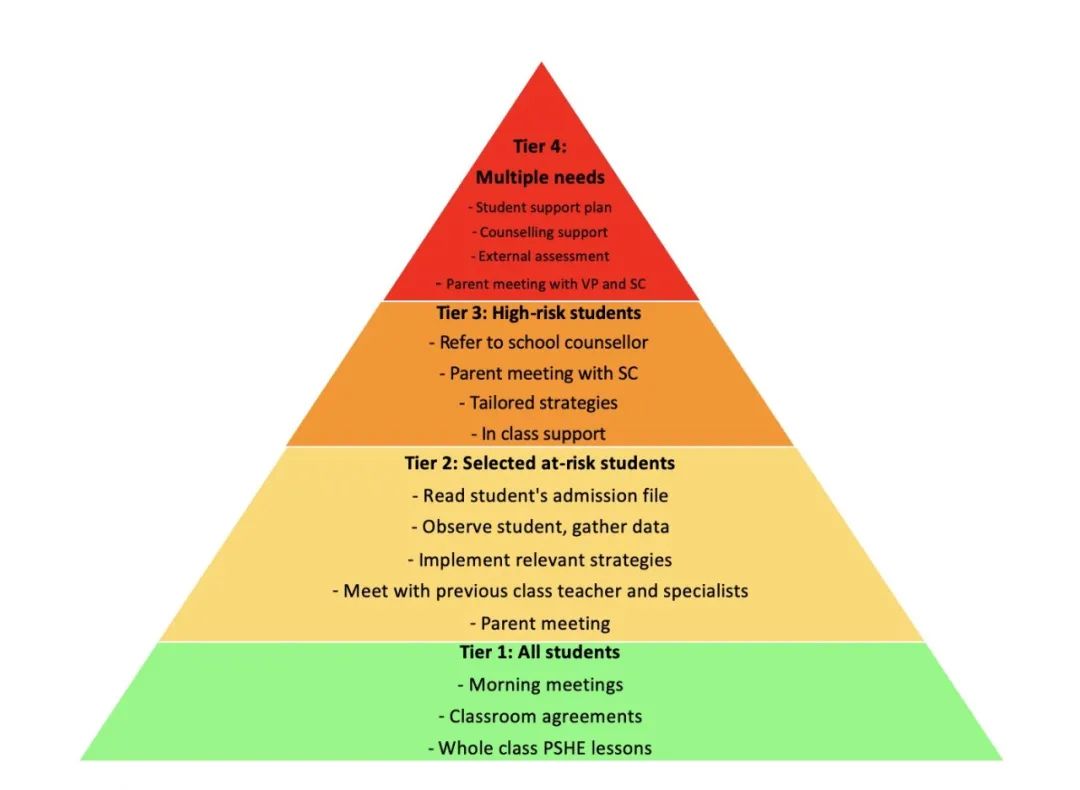 We support all the students by having daily morning meetings, setting up classroom agreements and doing whole class lessons on conflict resolution and more. We also have whole school events, for example, Kindness Week, where we focus every day during the morning meeting with the students on what kindness is, why it is important to be kind and how it feels to receive kindness.
For example, suppose the class teacher notices that a child struggles with a specific social or emotional skill. In that case, they will try to gather more observations by speaking to their previous teachers, meeting with the parents and observing them in class. Then, as a team, we will implement specific strategies for that student.
This is the support that all students receive, but sometimes additional supports may be required. If this is the case, either the teacher or the parents refer the student to Ms. Taalman. This is when Ms. Taalman would meet with the class teacher and parents, observe the student in class/playground and develop a plan. For example, this might be that the student will receive counselling sessions or that Mrs. Taalman will make suggestions on what kind of accommodations the teacher can make in class.
When the behaviour is more chronic, and the intervention hasn't been effective so far, we put the child on a support plan. For example, we might recommend parents do an external assessment or get external support.
Teachers receive training from Mrs. Taalman on the responsive classroom approach. She helps them plan or deliver morning messages to their students, especially when there is a specific need.
CISB focuses on integrated SEL and provides evidence-based supports that create a positive learning environment and engage all students in high-quality learning. We teach the "whole child" to develop as well-rounded individuals and good citizens. SEL is a part of a balanced support system for our students.
Stay tuned for part four next week!