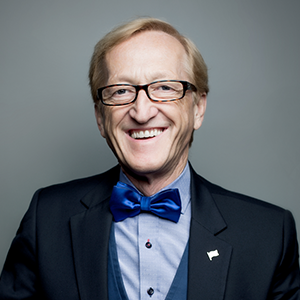 Douglas K. Prescott
Head of School/Superintendent
Douglas K. Prescott received his Master of Education Degree with a specialization in School Administration, his Principal's Certificate, his Bachelor of Education Degree and his New Brunswick Teaching License all in the province of New Brunswick, Canada. Mr. Prescott has also received certification from the National Association for Secondary School Administrators (NASSP) a program for assessing future principals and vice-principals; he holds advanced training Certification from the PLC Coaching Academy in establishing Professional Learning Communities and holds Level 2 Threat Assessment Certification.
Philosophy of Education:
Education is a caring profession— students need to know we care for them and their learning before they fully engage in the learning process. Teachers must show their human side of respect, tolerance, and understanding while using the curriculum as a means towards higher learning. He believes that by attaining a quality education students will have endless possibilities as long as they continue to be lifelong learners. Mr. Prescott firmly believes that education is a serving profession and he lives by his motto which states: "Only a life lived in service to others is a life truly lived worthwhile. As educators, we are privileged to touch a piece of eternity every day as we work with children of all ages on their journey towards adulthood and responsible global citizenship!"
Work Related Experience:
Mr. Prescott has worked in the education field for almost 34 years — in schools in Canada, Bangladesh and China. He has worked at all levels — as a teacher, athletic director, counselor, coach/tutor, vice-principal, district-wide supervisor and Principal/Head of School.
His career is comprised of:
7 years of experience as a Physical Education, History, Guidance teacher as well as being the Athletic Director at a school with grades 1 through 12.
1 year as a Physical Education, Biology teacher and Athletic Director at a school with grades 9-12.
6 years as a Vice-Principal, History and science teacher at a school with grades 9-12.
1 year as a District Supervisor comprised of 16 schools, with primary responsibilities for 4 high schools; secondary responsibilities for all schools K- through year 12.
3 years as Principal at a school with grades 7-12
14 years as Principal at a school with grades 9-12
8 months working as Head of School/Principal and Education Consultant during the construction of a new Canadian International school in Dhaka, Bangladesh.
5 years of experience teaching at a District summer enrichment program for struggling learners.
14 hosting international students from 23 countries, with the majority coming from China, Korea, Japan, and Germany.
14 hosting several Chinese educators, including teachers, a vice-principal and a principal in his school and home.
10 years of experience delivering professional in-service to all-new substitute teachers in his former school district.
6 hosting educators, including principals, directors of education, admission officials, and government representatives from several countries in his last position in New Brunswick, Canada— from Korea, Japan, Columbia, Vietnam, Thailand, India, Bangladesh, and Mexico.
8 countries visited with delegations of students-for educational, cultural and sporting events.
Specialized training in Threat Assessment – Level 2.
Honors/Recognitions:
Selected as the award winner for the Premier of New Brunswick, Canada's "Medallion of Excellence" for engagement in International Education.
Twice received Certificates in recognition of nomination for Awards of Excellence in Education.
Twice Elected as President of the New Brunswick Interscholastic Association for two two-year terms. The NBIAA is an organization that oversees all sports in the 76 high schools in the Province of New Brunswick, Canada.
Asked to represent the Province of New Brunswick, Canada and bring "official greetings on behalf of the Premier and Minister of Education" for the graduation class from the Beijing Concord College of Sino-Canada at the Great Hall of the People.
Elected as President for the Volleyball Officials Association for Zone 5 in New Brunswick, Canada. Served for 5 years.
Selected as male Basketball Coach of the Year in New Brunswick, Canada.
Selected as the Baseball Coach/Baseball team of the Year in New Brunswick, Canada.
Awarded the Town of Riverview Volunteer of the Year Award for contribution to the growth of Minor Basketball.
National Certification as a coach for Basketball, Baseball, Hockey, Volleyball, Soccer, and Football.
Provincial, Regional and National Certification as a basketball, volleyball official/referee.
Selected to referee Canadian U18 Volleyball Championships; selected to referee Volleyball at the Canadian Summer Games.
Recognized locally, provincially and nationally for Education and Volunteer leadership.
Selected to serve on a liaison committee for the World Junior Track and Field [Athletics] Championship held in New Brunswick, Canada.