Newsletter Preschool and Elementary School / 校内一周回顾/幼儿园及小学部
We return to the new normal! Masks are optional, on-campus events are happening, and our whole Bobcats community thrives.
This week's PYP newsletter reflects on our PYP student's Learner Profile trait of the month, Balanced, and how students achieve physical and emotional well-being. Within Grade 1, students are starting new units, and Grade 2 celebrated the end of their unit with an exhibition of original artwork. We are also excited to highlight the Junior Bobcats athletic team's involvement in badminton and our Grade 4 and 5 students' participation in the Caribou math competition.
学校生活终于回归常态!在校园是否戴口罩是可选的,我们校园活动正在进行,我们的Bobcats Community也正在蓬勃发展。
本周的PYP Newsletter 体现了我们PYP学生本月的学习者特征, 即 平衡,并介绍了学生如何实现身心健康。一年级的学生正在开始新的单元,二年级则通过原创艺术品展览庆祝了他们的本单元的圆满完成。我们也很欣喜, 我们的 Junior Bobcats运动队也积极参与羽毛球运动以及我们四年级和五年级学生参加Caribou数学竞赛的活动。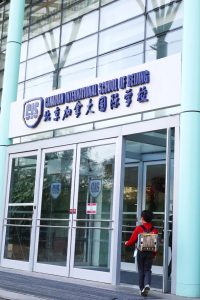 IB Learner Profile of the Month- "Balanced" 
Balanced learners understand the importance of intellectual, physical, and emotional balance to achieve personal well-being for themselves and others. They can assess and understand their strengths and limitations to support their learning and personal development. As an Ancient Greek quote says, "A healthy mind in a healthy body."
Finding and maintaining balance is a practical skill for our students to develop their academic and learning performance and social-emotional skills. Students need to understand that everything in life works better with balance.
Grade 1 Starting Unit Celebration
This week, Grade 1 students began a new unit called "Who We Are." Understanding how our brain works can help us take care of our mental health is the Central Idea of this unit. Students tuned in by acting as detectives attempting to figure out what they would be learning. They gained hands-on experience by using the material on the table. They had several books, an iPad with a 3D augmented reality app, a human body model or skeleton model, photographs of body parts, and examples of five senses objects related to our unit. Students gained hands-on experience by observing what was on each table and made conclusions about what they will learn.
本月IB学习培养目标-"平衡"
平衡的学习者理解在学术、身体、以及情感平衡的重要性,以实现个人和他人的健康与幸福发展。他们可以评估和了解自己的优势和限制,以支持他们的学习和个人发展。正如一句古希腊名言所说,"健康的头脑存在于健康的身体中。"
寻找并保持平衡是我们的学生发展学业和学习成绩以及社交情感技能的宝贵实用技能。学生需要了解生活中的一切都需要平衡。
一年级 新单元/主题庆祝活动
本周,一年级的学生开始了一个名为"我们是谁"的新单元。本单元的中心思想是,了解我们的大脑如何工作有助于我们照顾我们的心理健康。学生通过扮演侦探并尝试探索他们将学习什么来进入这个新的单元。他们通过使用桌上的材料获得了实践经验。这些材料包含书籍,一个带有3D增强现实应用程序的iPad,一个人体模型或骨骼模型,身体部位的照片,以及与我们单元相关的五感物体的例子。学生们通过观察每张桌子上的内容,并对他们将学到的内容做出结论,从而获得了实践经验。
Grade 2 Reflection on End-of-Unit Celebration
This week the Grade 2 students had the opportunity to showcase their original artwork for our unit of inquiry, "How We Express Ourselves." On Monday, February 13th, our Grade 2 students chose an art form to express themselves and presented their artistic creations to Pre-K 3 and their peers. The students were reflective and considered how they could show and represent elements of their identity in their artwork.
二年级 单元结束庆祝活动反思
二年级的学生有机会展示他们的原创艺术作品,主题为"我们如何表达自己"。学生选择自己喜欢的艺术形式来表达自己。在2月13日星期一,我们的二年级学生向Pre-K 3和他们的同伴展示了他们的艺术创作。学生通过深度思考,如何在他们的艺术作品中展示能够代表自己个人、个性的元素。
PYPX Passion to Issue Talks  / PYPX 讨论解决问题的热情
To support our Grade 5 students for the Exhibition, several teachers showcased their passions and explained how they took action to solve issues within these topics. These "Passion to Issue" talks inspired students to think about their passions or interests and what actions they can take toward an important issue they care about. Here are some quotes from G5 students:
Olivia. W : "it is important for our Exhibition to understand how I can take action towards an issue."
Candy. G : "The teacher passion talks helped me to learn how to connect UN SD Goals to my passion."
Megan. L: "I understand passion can be something that I am interested in, not necessarily I'm very good at."
Dr. Ali Shameem (CISB Technology Coordinator): 
"Talking about my passion for STEM education with Grade 5 students was truly a rewarding experience. My talk focused on giving a brief overview of STEM and a common problem I notice with STEM students-fear of failure. These young and curious learners were eager to learn and engage with the speakers, which made for a lively and dynamic atmosphere in the lecture hall. I was impressed by their level of engagement and the insightful questions they asked, which showed a genuine interest in the speaker and the topics. I hope this event provided a positive and engaging experience that will encourage the students to continue exploring and learning about their own passions."
为了支持我们五年级的学生进行展览,老师们展示了他们的热情,并介绍了如何采取行动解决他们热情中的问题。学生们从这些热情问题讨论中得到启发,思考他们自己的热情,并考虑他们可以采取什么行动来关注他们所关心的重要问题。以下是一些五年级学生的观点:
Olivia. W "了解如何采取行动解决问题对我们的展览非常重要。"
Candy. G "老师的热情讲座帮助我学会如何将联合国可持续发展目标与我的热情联系起来。"
Megan. L "我明白热情可以是我感兴趣的东西,不一定是我非常擅长的。"
Dr. Ali Shameem(CISB数字技术负责人)
"与五年级学生谈论我对STEM教育的热情是一次真正有意义的经历。我的讲座集中介绍了STEM的简要概述和我注意到的STEM学生的共同问题——害怕失败。这些年轻而好奇的学习者渴望学习并与演讲者互动,使讲堂充满了生机和活力。我对他们的参与度和提出的富有洞察力的问题印象深刻,这表明他们对演讲者和话题有真正的兴趣。我希望这个活动提供了一个积极和有吸引力的体验,鼓励学生继续探索和学习他们自己的热情。"
Caribou Contest – Math Can Be Fun
We are thrilled to share that our Grade 4 and 5 students recently participated in the Caribou math competition, demonstrating a range of IB PYP learner profiles throughout the event. Our students worked collaboratively and showed exceptional thinking skills as they tackled challenging math problems during the competition.
The competition called upon our students to use their communication skills, work together as a team to solve problems, and offer support to one another when necessary. Our students displayed resilience in the face of challenging questions and demonstrated an unwavering commitment to their tasks.
We congratulate all our students who participated in the Caribou math competition. We look forward to more opportunities for our students to engage with and embody the IB PYP learner profiles in their learning journey.
北美驯鹿数学竞赛 – 数学也可以很有趣
我们非常高兴地分享,我们的四年级和五年级学生最近参加了北美驯鹿数学竞赛,全程展示了各种IB PYP学习者特质。在比赛中,我们的学生合作学习,展现了卓越的思考技能,挑战了比赛中的复杂数学问题。
本次比赛要求我们的学生运用沟通技能,团队合作解决问题,必要时互相支持。在面对困难的问题时,我们的学生表现出了坚韧不拔的精神,展现了对任务的无限承诺。
我们要祝贺所有参加数学竞赛的学生。我们期待更多机会,让我们的学生在学习旅程中更多地参与和体现IB PYP学习者特质。
Jr. Bobcats Athletic Team – Badminton
We are pleased to provide our Bobcats with a well-rounded and enjoyable learning experience at CISB. This semester, we are excited to offer badminton every Tuesday after school for students in Grades 3 to 5. Badminton is an excellent team sport that promotes social connections among students.
Badminton is a sport that engages the entire body, involving sprinting, leaping, and swinging, which requires coordination among various body parts and muscles. This sport is a great way to develop students' physiological functions and flexibility.
CISB小学生羽毛球运动队
在CISB,我们为Bobcats提供平衡有趣的学习体验。本学期,我们每周二放学后会有羽毛球活动,适合3至5年级的学生参加。羽毛球是一项很棒的团队运动,在面对面的练习中,学生之间建立了社交关系。
羽毛球是一项全身运动,需要奔跑、跳跃和摆动,需要协调许多身体部位和各种肌肉。学生的生理功能和灵活性可以从这样的运动中良好地发展。
Upcoming Events
February 21st – Mother Tongue Day
February 22nd – Waterloo Math Competition
March 1st – MSHS I&S Expo
近期活动安排
2月21日 – 母语日
2月22日 – Waterloo数学竞赛
3月01日 – I&S 展览