CISB Bobcats Won the Boy's ACAMIS Basketball Championship!
This past week at CISB we held the U19 ACAMIS Blue Division basketball championship for boys and girls. The Bobcats boys finished the year as ISAC and ACAMIS Champions.   
The U19 boys' basketball team hosted the ACAMIS Championship this past weekend. Eight boys teams from Beijing, Shanghai, Suzhou and Qingdao all got together for three days of hoops action. Tournament Director, Mr. Joe Rodden did a great job of hosting the out-of-town teams and the food selection was celebrated by players and coaches throughout the tournament.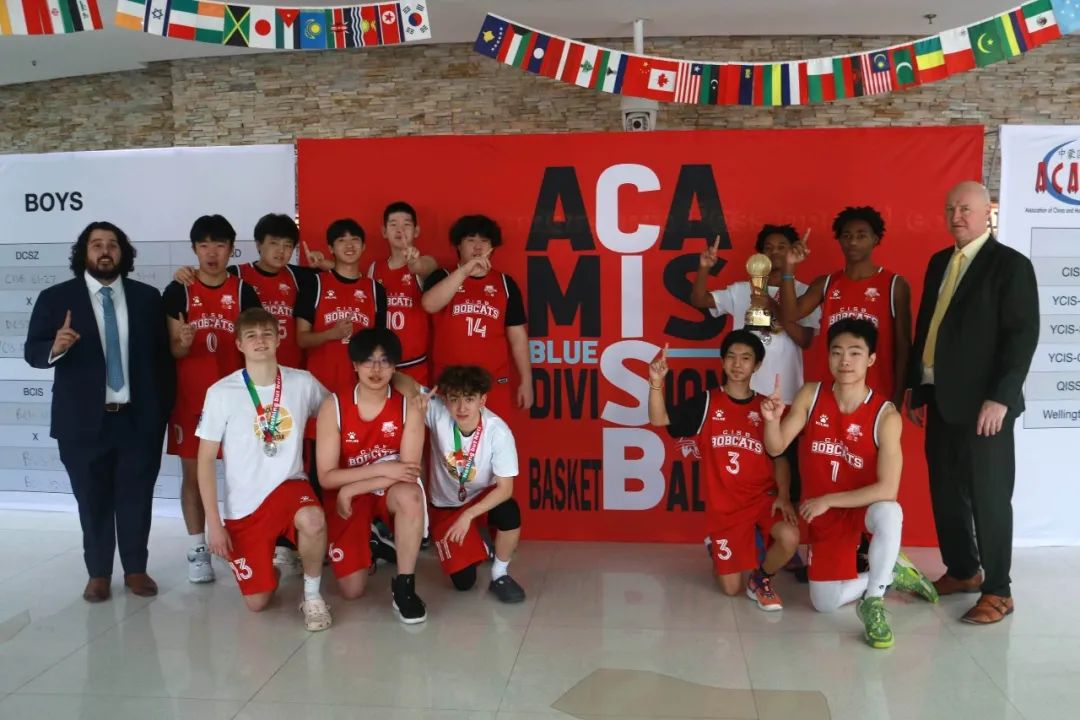 CISB won their three pool games over YCIS Shanghai 51-16, Dulwich Suzhou 61-27 and YCIS Qingdao 63-42. All twelve players were instrumental in the pool game victories with Jackie Tattibay and Simon. D giving solid contributions off the bench. In the quarter-final matchup, CISB played stellar defense and did not allow Shanghai Wellington any room to maneuver. Final score 51-15 CISB.
In last Saturday morning's semi-final, the Bobcats matched up against Qingdao International School. Once again, the full court pressure applied by the defense allowed for some easy baskets. Ewan .M was a force on the press stealing numerous passes from out of bounds. Jeff. L and Tony .C also played excellent defense all weekend. 
The Championship game was played in front of a packed gym, and the Bobcats did not disappoint the fans. The full court pressure once again allowed the home team to get off to a fast start, along with the hot shooting of Ya-Han. C. After one quarter it was CISB 24 and BCIS 8. The pace of the game slowed down in the second quarter, but once again the Bobcats defense held steady to take a 33-15 lead into the break. The third quarter saw BCIS try to make a run, but they had no answer for the guard play of Nic.C and Ya-Han.C as the Bobcats pulled away to lead 56-32 after 3. CISB finished things off to take home the ACAMIS Championship 64-44. Ya-Han dropped 30 points in the final to join Ewan.M and Nic .C on the Tournament All-Star team.
Coaches Mr.Zownir and Mr.Muller would like to thank all the players for their commitment and dedication throughout the season. Congratulations also goes out to graduating senior Vince. M.
U19 Girls basketball
The girls on the U19 basketball team played hard through adversity. With a short roster, many of the girls played the whole game, from start to finish without rest. Despite this, the girls showed up for the games, and played as hard as they could. In the beginning of the season, many of the girls had never played basketball in their lives.
However, the girls accepted the challenge to learn the game as quickly as possible. By the end of the season, the girls had developed their skills, practiced hard, and showed amazing improvement. We are proud of all their accomplishments.
U14 Girls Volleyball finish 2nd at ISAC Tournament 
The Lady Bobcats concluded their U14 Volleyball season with a very busy week of games and tournaments. Last Thursday, the Grade 7 and 8 girls traveled to Haiden Kaiwen Academy and picked up two solid wins; Grade 8 won 4-0 (25-15, 25-15, 25-21, 27-25) and Grade 7 (2-1) respectively. Stefani. P led the Grade 7 team with her impressive serving, a nearly perfect 17/18 with 3 aces. For the Grade 8 team, Middle blockers Phoebe.T and Julie. Z intimidated HKA with some big stuff blocks and great net play. Setter Amy .L served an impressive 24/24 with 4 aces. Amanda.D chipped in 3 kills, along with her outstanding defense.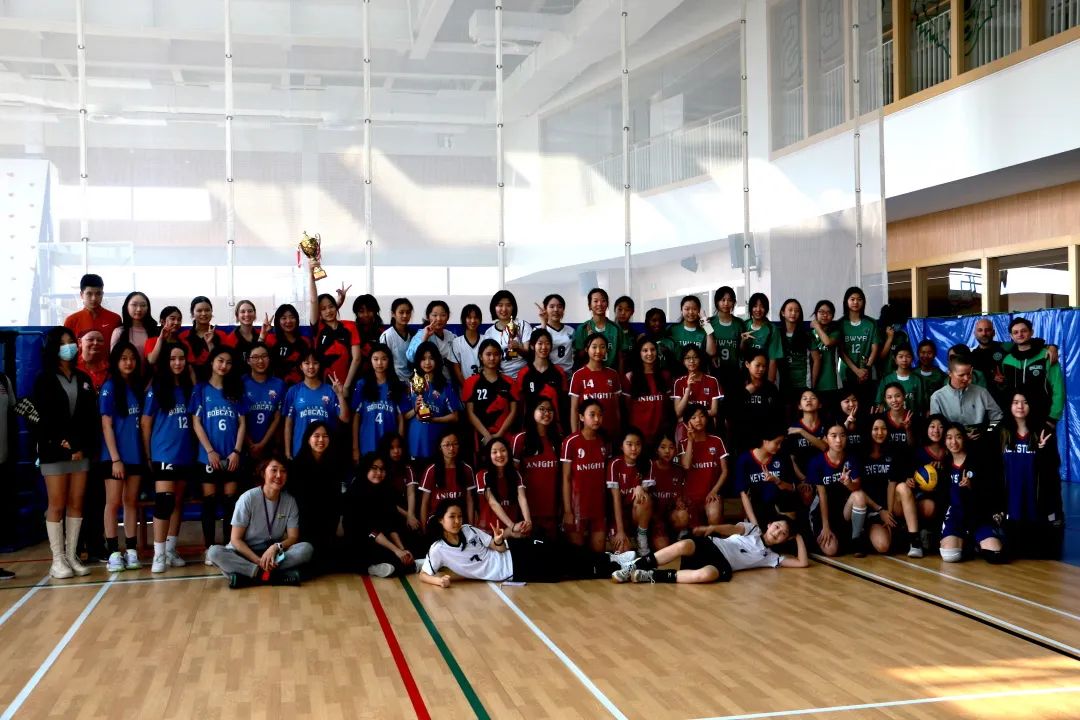 Last Saturday, the teams traveled to different schools for their ISAC Championship tournaments. At Keystone Academy, the Grade 7 team fought hard but came up short on a trophy. Coach Stella .Y (Grade 12) said that she was very impressed about how much the team improved over the season and the experience of being at their first ISAC tournament was enjoyed by all.  
Meanwhile at Beijing World Youth Academy, the Grade 8 team held nothing back in their pursuit of a trophy. The Bobcats easily defeated Keystone (25-12, 25-7), before dropping two sets to rival BCIS (10-25, 22-25). After the disappointing loss to BCIS, the Bobcats regrouped to win their semi-final match in a hard-fought battle against THIS (25-23, 23-35, 15-10). This set up an exciting championship game rematch between two very strong teams. In the end, the Bobcats settled for 2nd Place dropping two sets 15-25 and 24-26. The Bobcats were led by Amanda.D with 13 kills, 14 perfect serve receive passes, and 5 aces; Macy.Q who served 20/22 (91%) and added 9 perfect passes; Phoebe .T who dominated every area of the court with 7 kills, 9 perfect passes and 20/23 (87%) serving with 4 aces; and lastly, setter Amy.L who had 25 assists, 12 perfect passes, and served 38/40 (95%). 
The Bobcats grade 8 girls' volleyball team won 2nd place at the ISAC tournament the past weekend.
ISAC Swim Championships  
We had an eager group of five swimmers participate at ISB this past Sunday.
Grade 9 student Jessica. L won the ISAC Champion in 50-meter backstroke. 
Congratulations!  
Sophia .C from grade 7, set two personal bests and finished in 5th place in the 100-meter freestyle. 
Anne. Z, from grade 8, finished in fourth place in 100-meter freestyle. 
Nanako. M, from grade 9, 4th place in 50- meter backstroke 
Eric. L, from grade 10, 6th place in 50-meter freestyle. 
Comments from Jessica. L: "All the achievements and honors are paying a price. We don't believe that a very talented person can be better than a person who works hard. Talent may return a person to sparkle, hard work can also do this. 
 We are training 2-3 times per week and each of us train hard every time. 
We started having swimming units since grade 3 until grade 8. I joined the CISB swim team also from grade 3 and practiced a lot. This year our PHE class is doing water polo, and we still had some chance to do some swim practices. For swimming during PHE classes I am one of those who swims every class". 
A friendly piece of advice from Jessica. L: 
"Be passionate of swimming and never give up".
CISB is proud to have successful school teams due to the consistent hard work of players and coaches who are very dedicated. 
On behalf of CISB, huge congratulations to all athletics teams and coaches. Their passion for the sport is truly inspirational.   
All this and more are leaving us CISB sportsfans to eagerly shout from the sidelines- "Go Bobcats, Go!"