Weekly News Preschool & Elementary School 校内一周回顾/幼儿园及小学部
An IB education fosters diversity, curiosity and a healthy appetite for learning. This week we reflect on the success of the exploration of IB Learner Profile risk-takers. We also introduce October's IB Learner Profile trait; Caring and how we engage students with
the Learner Profile trait in the Pre-School and Elementary (PYP) learning environment.
Slide for Chinese <<
Risk-Taker Awards (Certificates of Courage)
Teachers have done an amazing job encouraging students to tell their stories of being risk-takers and teaching students to embody courage with their classmates. At the end of month students were awarded a Certificate of Courage to take home as a reminder of being a RISK- TAKER.
IB教育理念以培养学生多样性、好奇心和积极的学习态度为主,本周我们不仅回顾了九月的探索 IB Learner Profile 冒险者的成功,还主要介绍十月的 IB Learner Profile 特征;关怀以及我们如何在幼儿园和小学 (PYP) 学习环境中让学生具备学习得概况特征。
敢于冒险 (勇敢嘉奖)
老师们积极的鼓励学生讲述他们冒险的故事,并教会学生与同学一起体现勇气。月底,学生们高兴地把勇气证书带回家,以此提醒他们自己是一个冒险者。
Ms. Nomzi's reflected on how her Kindergarten class had learnt that to be courageous is to be a risk-taker and try new things.
"One of our school-wide goals is to develop lifelong learners, with the hope that students develop this Learner Profile in their learning and their approach to life. In our classroom, we encourage students to be open to making mistakes in their learning, to be ready to try new things and to gain resilience. Each child is able to connect this Learner Profile to his or her personal experiences."
在Ms.Nomzi老师班,她带领学生们认识勇敢就是冒险并鼓励学生们勇于尝试新事物。
"培养终身学习者是我们的目标,希望学生在学习和生活方式中培养这种学习者形象。在我们的课堂上,我们鼓励学生对在学习中犯错误持开放态度,勇于尝试新事物并获得韧性,每个孩子都能学以致用。"
October's IB Learner Profile trait!
This month students will explore the trait caring! It is important that every member of the CISB community strives to demonstrate the Learner Profile attributes in their daily lives.
Caring for International friends in Grade 5!
This week in Mr. Bartlett 's class, students were making connections and building friendships with a class in Winnipeg, Canada. Students replied to letters that were written to them individually. Students were open-minded and excited to write letters and get to know their penpals.
十月的 IB 学习者档案特征!
本月学生将探索关怀!重要的是,CISB社区的每个人都努力在他们的日常生活中学习关心别人,
五年级学生的国际友谊!
本周在 Mr. Bartlett 的课堂上,学生们正在与加拿大温尼伯的一个班级通过书写书信建立友谊。学生们积极回复了她/他们收到的信件,学生们开拓思维,并迫不及待的对回信和结识笔友感到兴奋。
They also discussed the importance of being caring and taking care of their mind to stay healthy. Students designed a positive affirmation t-shirt to promote positive thinking and advertise World Mental Health Day.
Learning to be a caring IB student doesn't stop in the classroom. Physical education is taught through the IB Personal, Social and Physical Education (PSPE) in the elementary at CISB. This week Grade 5 undertook an activity where the students where blindfolded and had to complete a series of physical tasks using excellent communication skills in order to be successful. This unit is about developing their social and communication skills as well as learning to treat their classmates with compassion and respect.
学生们还讨论了关心和照顾自己的思想的重要性以及如何保持心理健康, 因此,学生们设计了一件具有积极肯定意义的T恤,促进积极思考和宣传世界精神卫生日。
学习成为一个关爱的 IB 学生不仅停留在课堂上,在小学的体育课堂上,以 IB课程的 个人、社会和体育教育为主,学生们进行了一项活动,当学生们被蒙住眼睛,必须使用出色的沟通技巧完成一系列体力任务才能获得成功。这样的课堂是为了更好地发展学生的社交和沟通技巧,以及学会同情和尊重对待周围的的同学。
They golden rule of caring is: "treat others how you want to be treated".
Caring is showing and giving respect for yourself and others. Students who are caring want people around them to be happy and are sensitive to their needs. They think about the world and work to take care of their community and the environment.
Empathy, compassion, and respect are the main concepts of developing this profile.
Empathy is the ability of understanding and caring about what other people are feeling. It is about putting yourself in their position so you can feel the same way as them. If another kid's balloon blows away, you may empathize with him because you can understand his feeling of sadness. Our students can show empathy to others by listen actively, and recognize and accept other people's feelings.
Compassion promotes meaningful connections, facilitates problem-solving, and improves health and wellbeing. Compassion, at its core, is about putting aside judgment and refusing to turn away from challenging situations.
Respect is a moral value that is the basis of a happy, healthy, and fulfilled life. It is a two-way process that means a person will earn respect when he/she respects others.
Join the IB PYP AT CISB PARENTS AS PARTNERS 2022 – 2023
We would like to invite you to take part in our first Parents As Partners
Meeting this year to learn about our dynamic IB PYP Programme at CISB.

关爱的黄金法则是:"以你想被对待的方式对待他人"
关怀是对自己和他人的尊重,有爱心的学生希望他们周围的人快乐并且注意到身边人的需求,他们并努力照顾好周围的社区和环境。
同理心、同情心和尊重是十月的学习目标。
同理心是理解和关心他人感受的能力,这是关于把自己放在他们的位置上,这样你就可以和他们有同样的感觉。如果另一个孩子的气球被吹走了,你可能会同情他,因为你能理解他的悲伤情绪,我们的学生可以通过积极倾听来表达对他人的同理心,承认并接受他人的感受。
同情心促进有意义的链接,解决问题,并改善健康和幸福感,同情心的核心是摆脱偏见,勇于接受新挑战。
尊重是一种道德价值观,是幸福、健康和充实生活的基础。这是一个双向的过程,意味着一个人在尊重他人时可以获得尊重。
欢迎参加PYP 项目家长会
我们诚挚邀请您参加我校本学年第一期家长会。
此次家长会的主题为IBPYP 项目动态。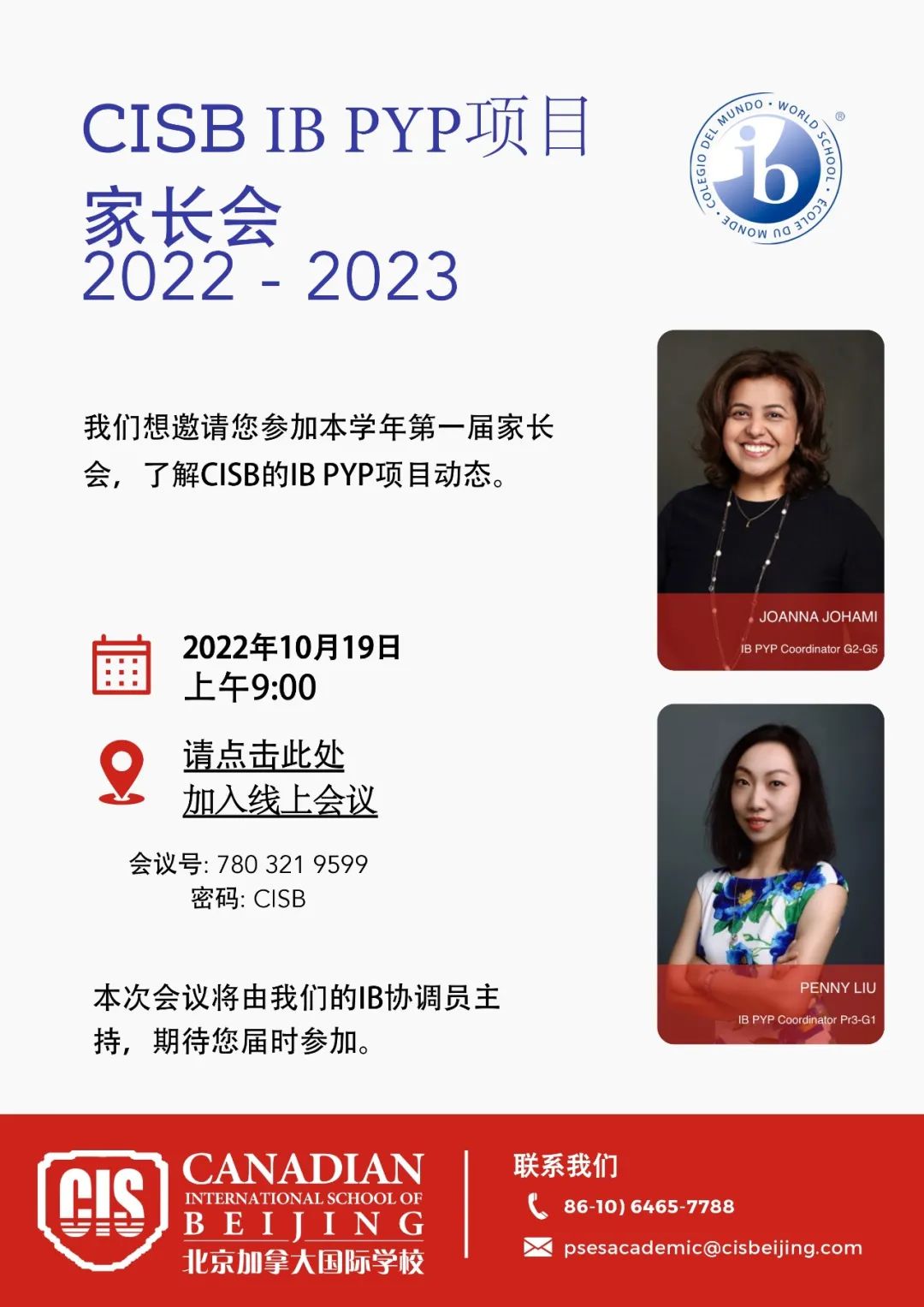 Upcoming Events
14th – U19 Volleyball – CISB vs BIBA
15th – ISAC Cross Country Invitational
17th – 19 Volleyball CISB vs Daystar
19th – M/H Caribou Math Contest
19th – PYP Parents as Partners
28th – PYP Progress Reports Sent Home
近期活动安排
14th – U19排球比赛 CISB Vs BIBA
15th – ISAC 田径邀请赛
17th – U19 排球比赛 CISB Vs Daystar
19th – 初高中 Caribou 数学竞赛
19th – PYP项目家长会
28th – 发送PYP 阶段学习报告